Elevate Your LinkedIn Impact with
Microsoft Teams
Transform your company's LinkedIn presence by enabling seamless content sharing, engagement, and advocacy directly through Microsoft Teams. It's time to turn your team into your greatest marketing asset!
An active SocialWeaver account is required. Don't have an account? Request a demo.
Activity

Chat

Teams

Calls

SocialWea..

Apps
Edwin Zelaya
shared
new content on LinkedIn
.
Elastio
Created Fri, Jul 10 23 at 3:09 PM
30% of the engagement comes from employees, who are 14X more likely to share company content vs. other content types #employeeadvocacy#linkedin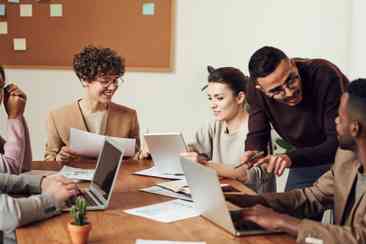 Empower your employee advocacy program with
SocialWeaver

and

Microsoft Teams
Amplify your content
Effortlessly distribute existing and new LinkedIn content to your team via Microsoft Teams, sparking engagement and conversation.
Boost engagement
Give your employees the power to share, like, and comment on your LinkedIn content directly from Microsoft Teams, turning them into active brand advocates.
Thought leadership
Create your dream team of thought leaders by delivering tailored content for viewing and sharing on LinkedIn, all within the convenience of Microsoft Teams.
Expand your reach
Harness the power of your employees and advocates to connect with untapped audiences, building trust and credibility more effectively than traditional marketing.
Analytics and gamification
Ignite friendly competition among your team while tracking the ROI and effectiveness of your campaigns with our intuitive analytics.
Content scheduling
Maximize efficiency by scheduling a month's worth of content sharing and amplification in just minutes.
About Microsoft Teams
Microsoft Teams is transforming the way teams communicate and collaborate. Offering a unified, secure platform for chat, video meetings, file storage, and application integration, it's the comprehensive solution to scattered communication channels. Connect with your team like never before, fostering seamless collaboration and enhanced productivity.
Pricing
Free and paid plans available.
Launch your advocacy program effortlessly
Inviting employees and advocates to join your initiative has never been easier. Begin the journey towards amplified engagement and expanded reach with our straightforward onboarding process.
Invite your employees and other advocates
Invite your employees, partners, and influencers to become advocates using your unique invite link. With a simple connection to their LinkedIn accounts via the official LinkedIn API, they're ready to amplify your brand's voice.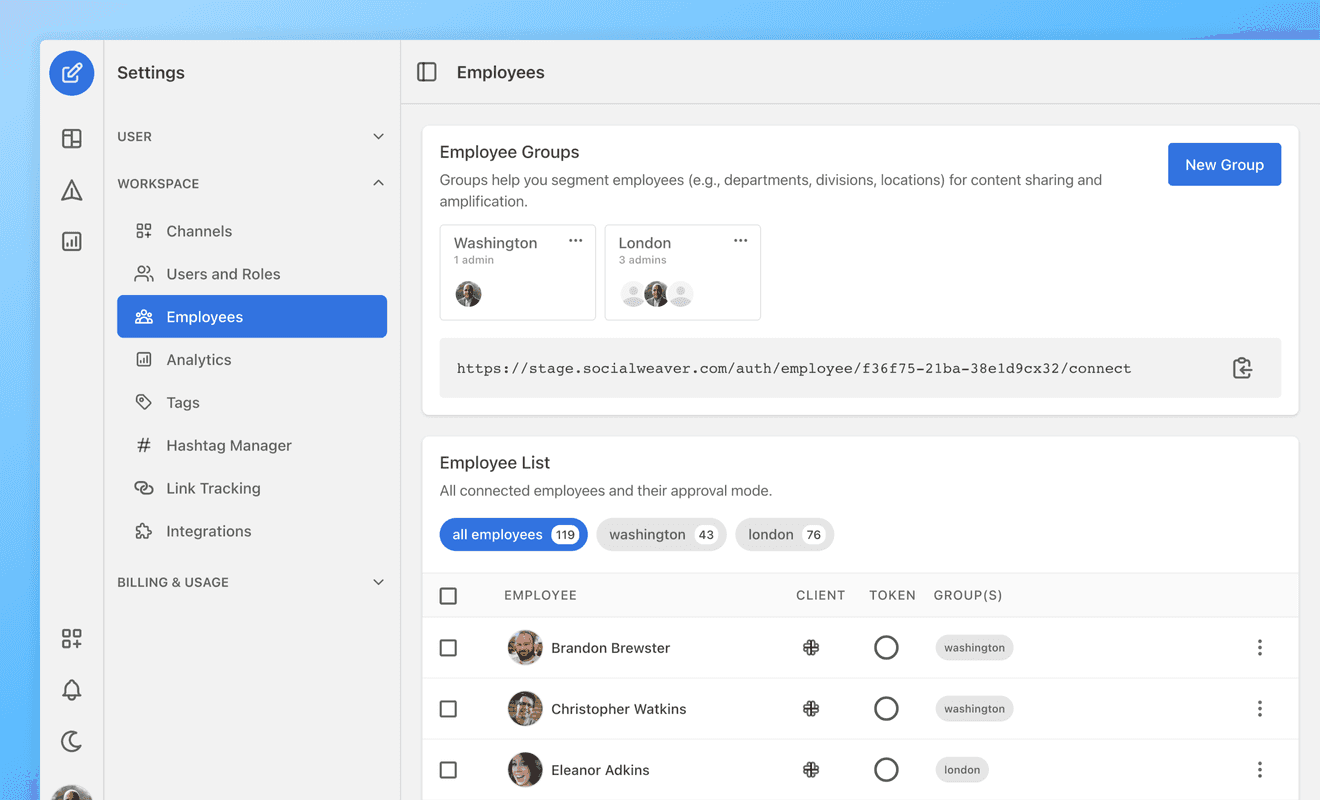 Distribute your content
Regardless of where your content originates — be it SocialWeaver, LinkedIn, or any other tool — you can swiftly distribute it to all or select segments of your employees and advocates on Microsoft Teams. It's all about getting the right content to the right people for maximum engagement.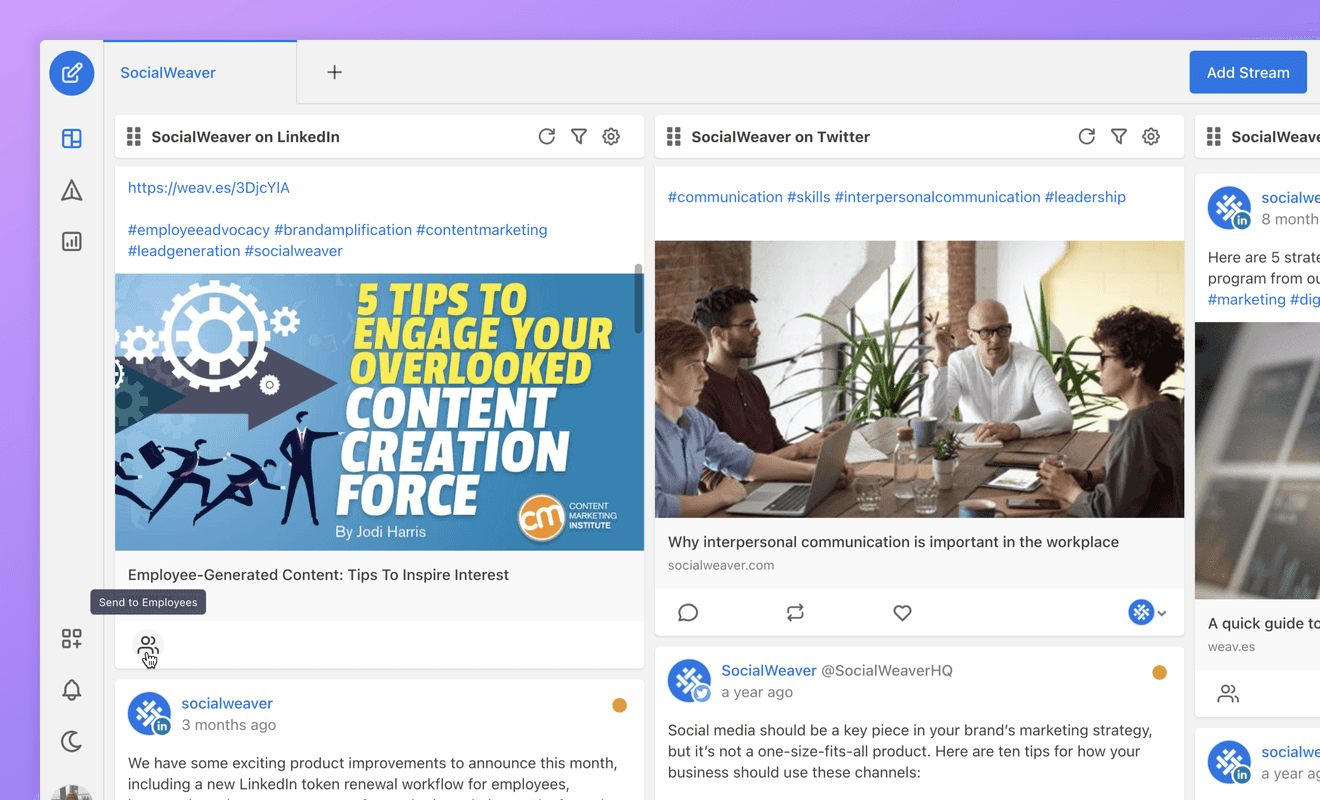 Analyze impact
Stay in tune with your advocacy program's performance using our intuitive analytics dashboard. With our interactive and customizable widgets, you can easily track progress, refine strategies based on ROI, and optimize engagement to drive success.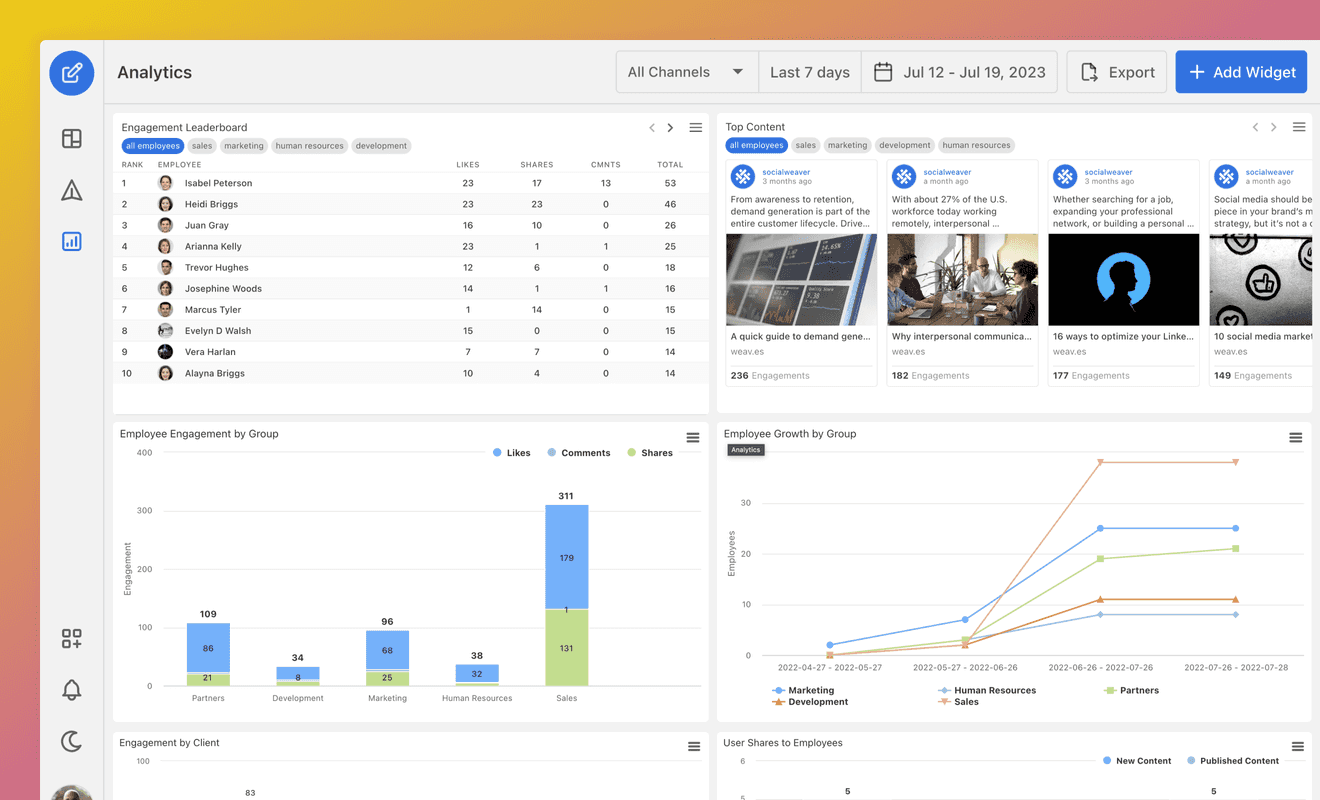 Speak with an Employee Advocacy Specialist
DLearn how our platform, integrated with Microsoft Teams, can help your team engage more effectively on LinkedIn. Discover the benefits of employee advocacy in a familiar environment.
Here's what you can expect
A brief conversation about your social media strategy and employee advocacy goals and what we can do to help you achieve them.

Live product demo tailored to your goals.